Capnophobia and Fumiphobia
Part 2 of 4
---
What is This Nonsense about the European Union (EU) Providing Tobacco Subsidies?
Paradoxically, the amount the EU spends on anti-smoking campaigns is dwarfed by the one billion euros ($1.13 billion) it spends subsidizing tobacco farmers in poor southern Europe.
Byrne has said the Commission has pledged to phase out tobacco subsidies, but in the meantime, he will have his work cut out to persuade Europeans to stub out the habit that often goes hand in hand with a glass of wine or a dash of espresso.
The Ten New Eastern Entries into the European Union (EU) Are Expected to Oppose Restrictions of Tobacco Rules
Opposition may be even stronger in the 10 mostly eastern European countries set to join the EU next year, where cigarette consumption is significantly above EU averages.
Romania, which hopes to join the EU in 2007, has one of Europe's highest smoking rates, with around 70 percent of the male population and 40 percent of women hooked.
"Let's pray they wouldn't ban smoking on the streets," said 33-year old Marcel Tomas.
Even in Ireland, where a home-grown ban is due to start in January, 2004, initially strong support is ebbing away.
Only 52 percent support the ban in principle, with just 37 percent backing a January start.
However, some of Europe's smokers were giving Byrne their approval.
"It's a reasonable idea, but the government should also have support mechanisms and treatment for smokers in parallel," said Lisbon council worker Christina Morais.
"But how do you enforce such a thing? Smoking while having coffee with friends is almost a religion," she added.
In the UK, a Cigarette Giant Tries to Deny Cancer Link to Smoking
A giant British tobacco company is taking an unprecedented step of denying there is a proven causal link between smoking and lung cancer in the first case against a cigarette firm to go to a UK court.
The unique defence, to be heard in Scotland's Court of Session, challenges decades of scientific proof of such a link, which was accepted by the Government in 1957.
Imperial Tobacco is being sued for £500,000 by Margaret McTear whose husband Alf, a 60-a-day smoker, from Beith near Glasgow, died of lung cancer in 1993.
Margaret McTear's lawyers will call scientist Sir Richard Doll, 91, as an expert witness.
It was Doll whose work in the Fifties is credited with establishing the link.
Yet Imperial says in documents filed into court: "Cigarette smoking has not been scientifically established as a cause of lung cancer. The cause or causes of lung cancer are unknown."
The company will argue that studies, such as those carried out by Doll, "report a statistical association between cigarette smoking", not complete proof.
The studies "also report cancer to be statistically associated with many other factors. These include race, ethnicity, religion, sex, personality, low socio-economic status, occupation, diet, stress, education. . . . It is not known which, if any, of these plays a role in the causation of lung cancer148;.
Cameron Fyfe, McTear's solicitor, said: "I'm amazed. Many of the tobacco companies have accepted the causal link but Imperial continues to refute it."
The case hinges on the fact that Alf McTear started smoking Imperial's John Players brand in 1964, seven years before packets had to carry a government health warning.
His lawyers argue this meant that he was unaware of the risks he was running.
Despite denying the link, Imperial will produce press articles and broadcast transcripts to show there were significant concerns about the effects of tobacco throughout the Sixties which should have made McTear aware of the dangers.
It has produced such newspaper headlines as, "Cigarette tar causes cancer", and "Million deaths from lung cancer by end of century".
It will even invoke a treatise written in 1604 by King James I who said smoking was "loathsome to the eye, hatefull to the nose, harmful to the braine [and] dangerous to the lungs. . .".
Margaret McTear said whatever the outcome, the hearing would highlight the links between ill health and smoking. "I'm fighting for the young people, to try and get through to them the dangers of smoking," she said.
There is an Anti-Smoking Campaign that Targets Cigarette Companies with False Advertising by Renaming Cigarette Brands
Cigarette firms are accused of misleading sales ploys.
A British government-sponsored anti-smoking campaign has been launched to target the "misleading" marketing ploys of the cigarette manufacturers who have been forced to abandon terms such as "low tar," "light," and "mild".
The "death repackaged" campaign launched through television, radio, press, and poster advertising aims to undermine the industry's attempt to beat the latest legal restrictions by renaming their brands in a way that brings to mind clean, fresh colours or better taste.
Thus Lambert and Butler Lights are being transformed into Lambert and Butler Gold, Silk Cut Extra Mild into Silk Cut Blue, More Special Mild into More Special Whites, Sterling Superking Lights into Superkings Smooth and Camel Ultra Lights into Camel Refined.
Cancer Research UK, using £2.5m from the Department of Health, commissioned the campaign that in TV, press, and poster forms, shows a great white shark given the name Susie, a crocodile called Mike and a rattlesnake dubbed Rosie to press the point that "a nice name doesn't make something less deadly".
Tobacco products now have to carry large public warnings and from the end of September, 2003, European law will prohibit the descriptions "low", "light" and "mild".
Alex Markham, Cancer Research UK's new chief executive, said: "Unfortunately there is no such thing as 'Lung Cancer Extra Mild'. A 'healthy cigarette' does not exist—whatever the pack suggests."
Robert West, of University College, London, said people smoking such cigarettes (mild, low, light)—about a third of all smokers— "are most worried about smoking, using every trick in the book to reduce their risk without actually giving up."
Smoking causes 120,000 deaths a year, mainly through cancers or heart disease.
The funding for the new campaign comes from a £15m, three-year, government "war chest" with which it is funding charities to devise innovative ways of delivering anti-smoking messages.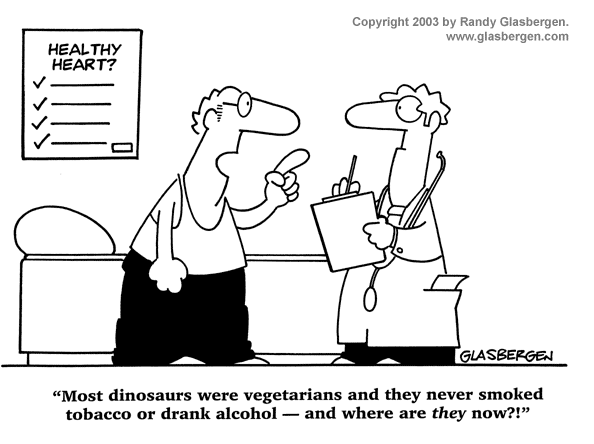 Used with special permission from the cartoonist, Randy Glasbergen.
All rights are reserved to Randy Glasbergen.
Huffing about Puffing
Piping up about a Europe-wide smoking ban in public places was EU health commissioner, David Byrne.
His suggestion—to use worker safety legislation to ban smoking in cafes, bars and restaurants throughout the 15-member European Union—deserves to be heard.
Many will ask Byrne to lighten up about lighting up, but his concerns are real and founded on the innumerable studies which show secondhand smoke is linked to two big killers in the western world: heart disease and cancer.
More than 100 US cities, most notably New York this year, have already banned smoking in public places.
True, prohibition has been accompanied by much gnashing of nicotine-stained teeth, but the fuming ended not long after the puffing.
This does not make it any easier for governments and bureaucrats to enact smoking bans, which are often seen by those addicted to nicotine as unnecessarily draconian.
In Britain—where polls show a majority of people would accept restrictions in restaurants, pubs and work—the chief medical officer supports a blanket ban on smoking in public, while his boss, health minister John Reid, has indicated he does not.
The Irish government's attempts to push through a ban could go up in smoke as public support drains away and ministers appear split over the medical benefits.
Lives are at stake—that is why Europe's policymakers have decided they need to restrict people's freedoms.
Such steps do not mean that adults, in the privacy of their own home, cannot take a drag on a fag.
No doubt critics, especially Europhobes, will want to portray Mr Byrne's intervention as a particularly virulent strain of a European disease: overregulation.
Instead the European commissioner has extended the logic of previous EU anti-smoking measures.
Of course, any clampdown will inevitably see people driven outside nightclubs and bars—congesting pavements and scattering cigarette trash by doorways and sidewalks.
Such unpleasantness is unattractive, but not as unattractive as the health risks associated with being shrouded in a haze of tobacco smoke.
Part 2 of 4